Prolotherapy
Dealing with chronic pain and want to regain function? Prolotherapy is a natural, safe and effective treatment for chronic pain and arthritis that does not involve surgery or drugs and has minimal downtime. Prolotherapy Injections uses the body's natural healing ability to relieve chronic pain, strengthen injured tissues, and restore function.
With Prolotherapy, your pain is NOT covered up, instead, your injury and source of pain are healed. Common conditions treated with Prolotherapy Injections include: sciatica, back pain, meniscal tears, tendinopathy, sprained ligaments, neck pain, rotator cuff, golfer/tennis elbow, wrist/thumb arthritis, TMJ pain, and foot/heel pain.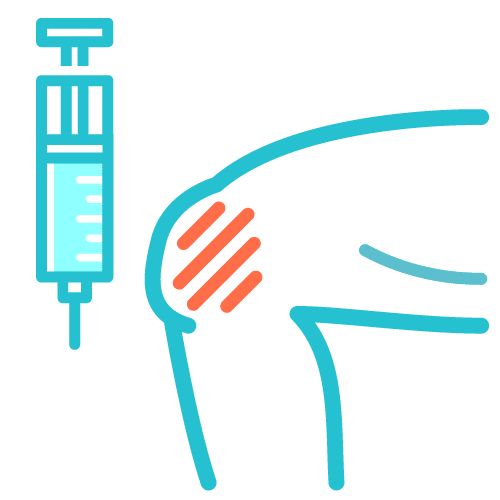 How does Prolotherapy work?
Are You Ready To Become Pain Free?
Prolotherapy is the first option in a family of injections called Regenerative Injection Therapies (RIT). A concentrated dextrose solution is injected in joints, ligaments and tendons that are weakened and or stretched out from injury or damage. These injections create a localized, temporary area of inflammation that activates collagen producing cells and attracts numerous types of growth factors that have been shown to bring in new blood vessels, activate more fibroblasts, and bring more somatic cells to the area to further heal the injection site. It can be used years after the initial pain or problem began, as long as the person is healthy. According to research studies, biopsies confirm thicker ligaments, tendons, and cartilage after prolotherapy treatments.
Since the injections themselves are activating the body's healing response, Dr. ACE works with each patient to optimize their healing ability prior to therapy by establishing a plan of action to get the best results from the injection therapies. Dr. ACE has studied and trained with the 
American Association of Orthopedic Medicine, the Naturopathic Association of Therapeutic Injections, the American Osteopathic Association of Prolotherapy, the 
American Association of Naturopathic Physicians as well as numerous highly skilled physicians. Dr. ACE brings you years of personal experience as well as patient successes with Prolotherapy Injections. Are you ready to heal your joints/ injuries?
Before Prolotherapy Injections

Bone on bone knee, joint space narrowing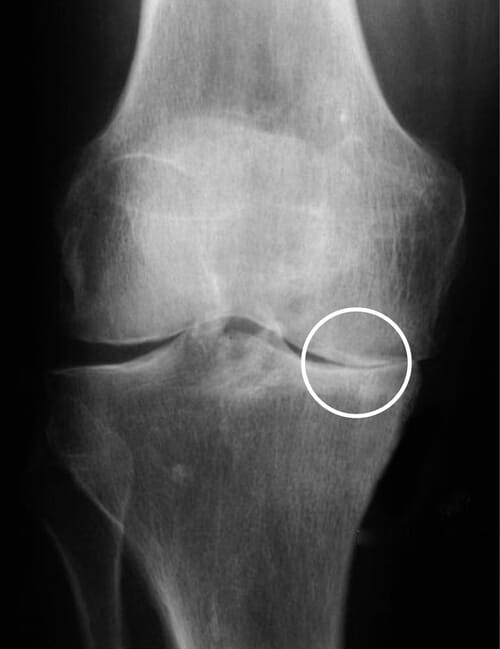 After Prolotherapy Injections

Cartilage has been regenerated and joint space restored
Do you qualify for a non-surgical solution to your pain?
Please click on the survey button to see if you qualify for a non-surgical solution to your pain.
After completing this survey, the doctor will review it and schedule a free 15 minute phone consult with you to answer any questions you may have and explain treatment options. Dr. ACE focuses on treating the root cause of your pain versus only managing the symptoms.
Common Conditions Treated with Prolotherapy
Osteoarthritis
Degenerative joint disease
Tendonitis
Sports injuries
Sprains & ligament injuries
Ligament laxity, joint instability & hyper mobility
Over-Manipulation Syndrome
Low back pain & sciatica
Hip Pain – arthritis, bursitis, labrum lesions
Knee pain – meniscal, ACL, MCL, LCL tears
Chondromalacia patella
Foot & ankle pain – plantar fasciitis, sprains, Morton's neuroma
Neck pain – whiplash, headache, migraines
Shoulder pain – rotator cuff, glenoid labrum tears
Elbow pain – golfer's & tennis elbow
Wrist pain – carpal tunnel, weak or sore wrists
Hand – thumb & finger pain
TMJ
Many of these types of conditions may do better with PRP Therapy, the doctor will advise you on the best course of treatment at your first visit.
Conditions that do not respond favorably to Prolotherapy Injections:
Fibromyalgia
Chronic myofascial pain syndromes
Severely herniated discs
Central Spinal Stenosis
Complete Rotator Cuff Tears
Frank Surgical Conditions
Pain from Cancer
Pain from Autoimmune Conditions
Looking for a comprehensive and cost-effective approach to your joint regeneration? The Regenerative Medicine Program was designed to get you the best results possible!
More information about Prolotherapy
The treatment was first developed in the 1930s by a surgeon, Dr. Earl Gedney, who injured his own thumb. It is designed to treat musculoskeletal injuries at their root cause – damaged ligaments, tendons and/or cartilage. Soon after, doctors Hackett and Hemwall refined the treatment and dedicated their lives to prolotherapy. Today it is considered a first line therapy for many physicians, including Dr. ACE, for long-term resolution of pain. 
At Regenerate Health Medical we don't let pain get in your way. Talk to us to find out if Prolotherapy can effectively treat your pain.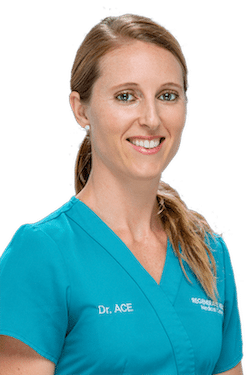 At Regenerate Health Medical we don't let pain get in your way. Talk to us to find out if Prolotherapy can effectively treat your pain.